START OFF, STANDING OUT
Say hello to BINIBAMBA's super-soft sheepskin buggy liners for BINIBABES that own their style. Your temperature regulating superhero - our merino pram liners will keep your baby cool come summer & toasty in winter.
SHOP BESTSELLERS
GET SNUGGLY WITH OUR BESTSELLING SHEEPSKIN SNUGGLERS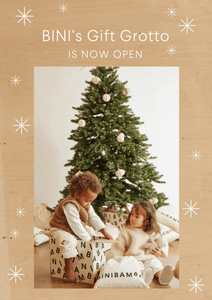 CHRISTMAS SHOP
We've settled it with Santa... discover snuggly gifts for all the fam over in BINI's Gift Grotto


SHOP NOW
MAKING US FEEL COSY INSIDE
"GAME CHANGER... my baby has never been so content in her pram. These are so much more than your average sheepskin liner...worth every penny!"
"MY GO-TO BABY GIFT... super quick delivery, beautiful packaging & always raises BIG & little smiles alike"
"WE LOVE OUR SNUGGLER... stylish & practical we use in our buggy & baby bouncer... it's been a WIN WIN. Anyone hesitating to buy one... don't!"
"OUR TOP BABY BUY... I can't tell you how many people I tell that if they only buy one thing it HAS to be a BINIBAMBA Sheepskin Snuggler!'"
"AMAZING SERVICE FROM THE BINI TEAM... beautiful quality, packaging and service, i've already recommended it to all my mummy pals!"
"I'M OFFICIALLY JEALOUS OF MY BABY! This sheepskin is so cosy & the colour dreamy... my top reccomendation to my baby mama friends."

WE LOVE MOTHER EARTH
A sustainable source of snuggles... our products and packaging are 100% natural, biodegradable & kind to the planet.

GIFTS WITH AHH APPEAL
Beautifully presented in our reusable dustbags... add a handwritten gift note & Binibox at checkout and we'll take care of the rest.

BINIBABES OF THE WORLD
We've got you... speedy delivery worldwide! No sweat with our 28 day returns... and if you need some help? We love to chat.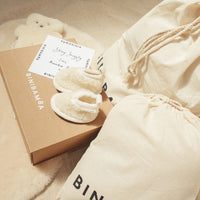 SHEEPSKIN SUPERPOWERS
The sheepskin superpowers that make BINIBAMBA the perfect plus one.
BINI TO THE RESCUE